The report on "Climate analysis and Vulnerability assessment at Metropolitan level" developed in the framework of the METRO-ADAPT project was delivered the 20th of December 2018 and is now available on Metro Adapt website, in the resource section.
Action C1 aims to support decision-makers of the Milan Metropolitan City (CMM), providing information useful for the development of effective governance tools for climate adaptation at metropolitan and local level. This action will provide the knowledge framework to support the other project actions, through the development of different tools and documents, such as the Vulnerability assessment for extreme meteorological events, Guidelines for climate adaptation, Training tools. Action C1 will also support the "Metropolitan Territorial Plan" with regard to urban flood risk management and agricultural vulnerability to drought.
The report describes the state of the art focused on the estimation of urban heat islands events and their effects, especially over the vulnerable population and over the environment. Specifically, the report includes a preliminary analysis of Vulnerability Assessment techniques for Urban Heat Islands, Urban Sealing and Runoff hazards.
The report gives a summary of possible methodologies to evaluate the relationship between changes in land use – especially due to soil sealing – and their consequences in temperature variations. Based on the user's requirements provided by CMM, the report also gives a preliminary indication on the input data and methodologies needed to provide the maps and other products as required by project's objectives.
The document is organized in chapters on the following topics:
Description of the territory of the Milan Metropolitan Area and its characteristics
State of the art analysis regarding previous projects and scientific studies that can support the definition of methodologies to achieve the objectives of Action C1
Milan Metropolitan City user requirements
Description of Input Data
Products specification and methodology.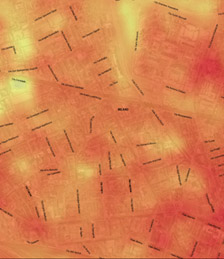 Example of a possible final map