One of the main strategies that a metropolitan area can implement to improve the effectiveness of climate change adaptation measures is the design and development of the so-called Nature-Based Solutions.
Nature-Based Solutions (NBS) are interventions inspired and supported by Nature that guarantee environmental, social and economic benefits, contributing to improving climate change adaptation in urban areas and increasing territorial resilience. Green roofs, green walls, urban forests, alternative rainwater management systems and urban agriculture are just some of the solutions that can be implemented in urban and peri-urban areas. NBS are cost-effective solutions that contribute to biodiversity defense, species conservation, energy savings, social cohesion, among others.
The main types of NBS applicable to the urban context concern: water management, green solutions in already existing urban buildings, green on built environment, ground green spaces.
Within the Metro Adapt project, co-funded by the LIFE Programme of the European Union, a catalogue of 20 NBS  has been produced to illustrate the solutions that can be implemented in urban and peri-urban areas, specifying their scale of application, describing their environmental and socio-economic benefits, the advantages and disadvantages and providing examples of good practices.
NBS FOR 
WATER MANAGEMENT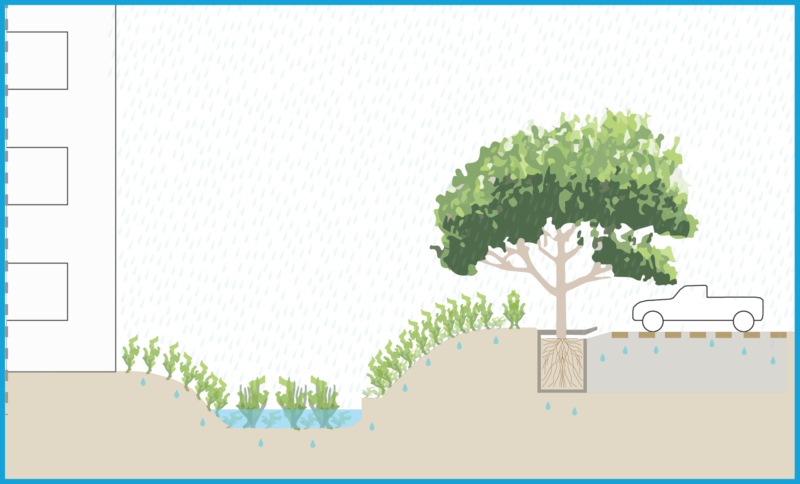 Managing water and urban drainage systems through the implementation of NBS allows to improve the hydrological response of urban areas, obtaining additional benefits in terms of water quality, increased biodiversity and increased use of public areas. NBS, whose design and implementation is supported by ecosystem services, can be applied both on roads, squares and related infrastructures and to the requalification of urban and peri-urban green areas and small watercourses.
GREEN ON BUILT ENVIRONMENT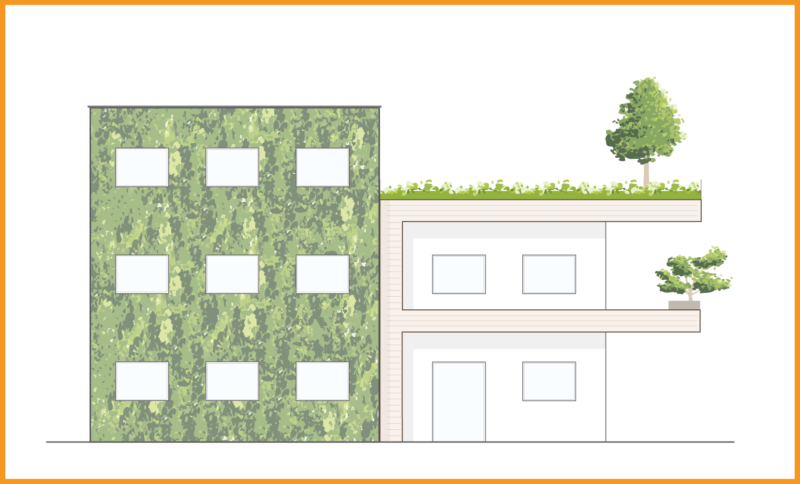 In highly urbanized areas, the development of vegetation on buildings and urban furniture, as well as representing an element of renaturalization of urban areas, is becoming an important element of climate change adaptation measures, especially as concerns the reduction of the heat island effect.  The application of vegetation elements can concern different types of artifacts, from buildings to infrastructural elements and street furniture.
GROUND GREEN SPACES
The design and implementation of urban green solutions represent a great opportunity for environmental and climate requalification. In this regard, it is relevant to apply a multi-purpose approach, more attentive to climate change adaptation, recognizing the role of urban greenery in pollution reduction, but also more focused on the requalification of urban spaces,  to make areas more liveable and social friendly.
GUIDELINES FOR THE DEVELOPMENT OF NATURE-BASED SOLUTIONS IN URBAN AREAS
The tools available to public administrations, in particular municipal administrations, to develop Nature-Based Solutions on their territory are different and diverse. They include strategic and sectoral planning and operational tools such as regulations or public-private partnerships.
The LIFE Metro Adapt project developed guidelines directed to public administrations in order to provide them with useful knowledge for NBS implementation, to foster a better management of water resources and the mitigation of the heat island effect. The guidelines identify four different types of tools that can be used by local entities:
strategies and plans;
cognitive tools;
regulations and technical guidelines;
public-private agreements.